Are you unvaccinated?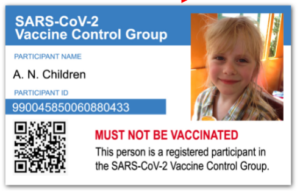 Are you unvaccinated and want to stay that way?
I actually call it the death jab because it's not a real vaccine.
Not that any of the vaccines were real because they were ALL meant to harm and kill people, just not on this level, unless you count the Spanish flu.
After starting to learn about how toxic vaccines really were in about 2018, I was shocked.
Despite being holistic since 1997, like most people, I thought we needed vaccines to shield us from deadly diseases.
Well, obviously that was before I was a truther and even knew about the evils and how they have controlled the world for hundreds of years and killed billions of people through their wars, poisons, toxins, even just plain old assassinations and then suicides, heart attacks, even giving people cancer to kill them.
So back to Are you unvaccinated?
I came across this great group that is doing a control study for unvaccinated people.
You pay a small amount in pounds and they send you a Vax Control group ID card with your name and picture on it. You can be anywhere in the world and they will ship it to you.
They are running on a very tight budget, so if you can, shoot them another 10-20 pounds on top of the fee, that would be nice.
I just got mine in the mail.
They do ask you for your blood type so if you need blood, you can get it from someone who isn't toxic from the death jab.
Once you sign up, in their database you can also record which businesses have discriminated against you for being UNVACCINATED.
Please share this page so others like us sign up.
I hope this works.
We ALL need to stand TOGETHER!
Michelle
Our Free Society
Spiritually we are born with freedom, but we MUST fight for it since the evils have taken it away from us and want to keep it that way.