Boycotting businesses that support the evils' lies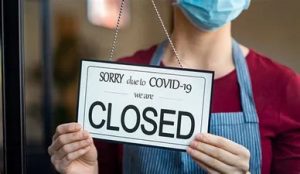 I'm going to start boycotting and showcasing the businesses that support covid19 and are perpetuating the scamdemic lie so you can decide if you want to support a company that promotes lies, scams and is probably involved with the evils.
I'll also be adding low IQ nazi followers who support the lies about the war in the Ukraine and Russia AND the fake climate change which is really the evils using their weather weapons to kill us, our food supply and our Mother Earth.
Note: I wrote this up in December 2020, so I'm sorry it's taking me so long to publish it.
Why else would a company capitalize on such a scam that is terrorizing the world and causing this war/holocaust?
Well here is one explanation. Video. The businesses are forced to participate in the social credit score system.
December 2020 – Opera the browser. Even without Opera being open on one of my computers it just started sending me popups to click here to find out more about the coronavirus. It's happened twice so far. SICK!
December 2020 – Charles Schwab – in one of their e-mails they made it seem like covid was real. Their customer service has deteriorated since I first started with them. Most of the time their support has no clue how things work at Charles Schwab. They won't even give me ATM fees I acquired while being overseas, so they lie and say they cover them, but only in certain circumstances.
October 2021 – Canva. So I just reformatted my computer and when I logged in for the first time and started an image that mentioned covid19, a popup appeared telling me to go to the criminal WHO for more information.
September 15, 2022 – Web Hosting Talk which is THE most popular forum regarding hosting companies which everyone who runs a site needs. Link. I tried to look for alternate sources before many years ago, but got nowhere.I've been on this forum for years. Maybe even more than 15-20 years and it has gotten worse every year with the control freak who runs it.

Overall the hosting industry is a very nasty industry. People are assholes by and large, they give poor customer service, never take responsibility for their actions always blaming the customer, and their tech support is often low IQ.

On the forum I've been cyber bullied by them a lot in the past which is why I stopped going there.

I can't even complain about a hosting company on their forum because then I'll be bullied and told it's all my fault or I'm a difficult customer or whatever.

This means you won't even know if the next hosting company you use was terrible, but because people are afraid to speak their mind.

Anyway, there was a thread about the increased cost of hosting and I already knew about this because my hoster raised their prices twice within a few months and they claim they haven't raised them in 2-3 years or something like that.

I chimed in about the war being the reason.

Today someone talked about how Europe is going down first, so I chimed in to educate him on a few things because it sounded like he was blaming Russia or had no idea that we were already in a war.

I got another infraction from the owner with the words "Please keep your conspiracy theories off this forum." My first infraction was because I FORGOT that you aren't allowed to post sites in the forum. I had posted some evidence to the Truth which should have been an exception because WE ARE IN A WAR, but low IQ EGOMANIACS who are also zombies don't care.

The owner of the forum clearly supports the evils, so he should be mentioned here for being a nazi follower and helping to eugenicize the entire world.
So I'm boycotting some businesses that support the evil narrative and what that means, is that I will ALSO boycott the alternative media that continuously writes articles or does videos that claim there's a pandemic or a virus going around. Some businesses I can't boycott because I've been using them for so long.
The alt media of ALL people should know this is a scam and yet they continue to talk about it as if it's REAL.
Why am I bringing this up now on December 29, 2020?
Because today was the last straw for me and the first alt media site on my list.
The choice is yours if you want to continue supporting these hacks, but my view is this…
We are in a war and we have to fight back any way we can.
If an alt media reporter, site, video channel, etc. is STILL promoting the pandemic even if they are great at reporting other news, there's one of two things happening here.
They are complete morons.

I don't care how great they were at reporting other topics that brought the evils, crime or injustice to light pre-scamdemic, what matters now, 9 months AFTER this scam started, is that they should know by now that this is all a scam.

Anyone who STILL uses the word pandemic is a MORON.

Or, they are CO (controlled opposition) and they were all along and they are brainwashing you to think there is an actual pandemic.
I'll repeat again, there's no such thing as a deadly virus. You can read all the proof here.
I also used to believe that there were viruses you could catch from another person, but when I kept hearing that you couldn't pretty much since March 2020, I started to look into it and when Dawn and Dave came out with their 500 page book and I watched this interview which of course was taken down by the nazi goolag, I started to research it more and realized this was a LIE spread by the evils to scare people, PLUS to get people to take their poisonous vaccines.
So if you're in the alternative media space or sell products that are holistic, then you should KNOW that this is all a scam, I am going to put you on this list.
The Free Thought Project – https://thefreethoughtproject.com/restaurant-owner-blocks-health-inspector/ – https://nimb.ws/AKYQ2B "Roman is not some delusional pandemic denier, he is merely a business owner who is tired of watching the state lay waste to business.

"I just want to say that I didn't come to this decision lightly. I had been following The Free Thought Project for years and even donated to them. It wasn't until the second or third time I saw them talking about the scamdemic as if it was real and I had written a nasty comment to one of their articles that I finally pulled out.

Reviv Plus – https://revivplus.com/vaccinations/ – WOW, I was looking for intravenous therapy for IV Vitamin C. Their site description showed that they do all types of IV therapy and THEN on their top nav I see the word VACCINATIONS!!!

Not only that, the doctor lists all of the fake diseases and ALL of the vaccinations the evils have been giving us for hundreds of years for their fake diseases that they created.

So on one hand he pretends to be holistic, and then on the OTHER HAND he's promoting toxic vaccinations and the DEATH JAB!

Uncle Harry's – I used to buy from them and then I see them showing off that they are forcing employees wearing masks. I even wrote to them and their excuse was that they have to because of the government. Then I wrote back offering to find them help to stop this and they ignored me. Then in the next e-mail I saw MORE employees wearing masks. Sorry, the image I had is on my other computer that's in pieces, so I can't add it here. And they call themselves HOLISTIC???  They don't know the first thing about how the body operates. They are suffocating their employees and who knows, they are probably forcing them to take the death jab as well.

So I haven't been on Couch Surfing for ages, but I was trying to clean out my password management software and they showed up so I clicked on their link which is when I got to their homepage where they ask you for money in order to keep it running due to the fake pandemic.

I admit I wasn't all kind and loving when I responded. I basically said you are being fooled and there is no pandemic and if you want to learn the truth, let me know. Well, Jenny (whoever that is) just closed the ticket without responding. So clearly Couch Surfing is supporting the evils' agenda to promote the fake pandemic and the takedown of humanity.

If you don't know what they do, they have a site where when you travel, you can reach out to people who live in the city you are traveling to and sleep on their couch, cot, floor, a bed, etc.

Obviously, it's more for people who are young and don't need a great bed.

I've never used Couch Surfing, but I did reach out to people at least 2-3 times, and most of the time I never got a response back or they were no longer offering their place.

I've read great reviews on there from people who have slept in people's places and it is a good idea, but clearly, the company wishes to remain IGNORANT and harm humanity with their ignorance and now they want your MONEY to help the evils with their New World Order.

Hmm, I went to get you a link from them on the Wayback machine and it SAYS that their site has been excluded from the Wayback machine. That's interesting, I've never read that before. I've since found out that the evils can also delete sites from the Wayback machine.

And their ticket system points to .org when their site is .com

I won't draw any conclusions about that as I don't want to assume.

Well, I no longer have to assume. Look at what I got in an e-mail on November 23, 2021. They are endorsing forced vaccinations.

Well, I guess it's no surprise that Trip Advisor is on that list too welcoming ONLY death jabbed people to the US. Screenshot.
Tunnel bear which is owned by MacAfee now is promoting the evil owned organization trying to cause hatred between blacks and whites. Black Lives Matter. Here's the evidence.
Expat.com is a site I've been registered to for years. It seems ALL of the travel sites worldwide are pushing the lie and supporting the EVILS. Here's their article to frighten expats worldwide with this fake variant called Omnicrom. DISGUSTING.
Disqus – today on July 19, 2022 I got an email that someone commented to my comment on an article thread about stainless steel pots and pans. Disqus is a poorly coded site. I've complained about this before. I click on the link from the email and it takes me to their index page. I log in and it doesn't take me to the thread. I click the email link again. It still doesn't take me to the thread, but instead takes me to a long list of other threads I commented on 8-24 months ago.I got curious so I started scrolling down the list and noticed that I never saw people's comments to my comment and there were at least 15-20 going back at least a year, some less.I did a search in my email and the ONLY Disqus emails I got regarding comments to my comments was to that stainless steel pot thread. Not one email was to the other threads that were all about the truth. INTERESTING!
So that wraps up this article. I'll add more to it when I remember or find the businesses that are getting paid HUGE money to brainwash their customers and support the evils' NEW WORLD ORDER.
I know the list is short and there's tons more, so please register and add a company you know about to the list. Please make sure you add screenshots as your proof. You can use Nimbus which is a great app that takes screenshots. Link. It's free, but I got (just paid in fact) for their pro version so I can get lots of space for my screenshots and videos.
Michelle
Our Free Society