Weather Manipulation and Warfare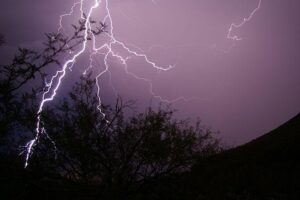 Books on Weather Manipulation and Warfare.
So I decided to start compiling all the PDF books I have on Weather Manipulation and Warfare.
THE EVILS ARE CONTROLLING THE WEATHER
The bottom line is that they have been able to manipulate the weather since the 1940s, but wanted to do it and were talking about it in the mid to late 1800s.
Our poor Mother Earth has been abused for so long and things have gotten so bad due to the evils' weather warfare, that it's killing us and all living insects, animals, fish, marine life, etc. on EARTH!!!
We haven't been able to grow anything clean for who knows how many decades now, and my guess is that at least 80% of the world (at least in North America, the UK, etc.) eats toxic food. And it's not just due to the pesticides and herbicides, but ALSO the chemtrails, which is a weather weapon. Here, have you listened to this yet?
Chemtrails is when the evils spray toxic chemicals from high above from planes. They land on us, we breathe it in, they kill trees, organic vegetation by way of the soil, etc.
Whether it's us or animals eating toxic vegetation, drinking toxic water, eating toxic drug laced food because the animals we eat are fed toxic food and drugs, fish and seafood that is full of deadly toxins or breathing toxic air.
This is NOT some accident, the evils have been using weather as a weapon aimed at the entire world.
They lie and say they are using weather as a weapon for warfare, to get back at drug cartels, but that's all a LIE. The evils are the drug cartels and always have been. They work with drug cartels or they take them out. FULL STOP. They don't need to use weather to take out a drug cartel. Come on, give me a BREAK.
They use their weather machines to create storms, floods, hurricanes, fires, and tornadoes to get farmers off of their land. They use it to displace people and businesses who are then forced out of their homes and businesses and end up being poisoned by MOLD once they move back into the buildings or homes.
Not to mention the cost and trauma involved in all of the cleaning up, the moving, etc.
And they also do it to kill off a good portion of the humans in third-world countries.
Every single weather catastrophe you have heard of in the last 100 years was done BY THE EVILS and of course the weather channels are also controlled by the evils (just like the news) and they are complicit in spreading the lie that it's all about global warming aka climate change.
And I know they have been spraying way more toxic chemtrails since the scamdemic started. This was to make people sick and blame it on the fake virus.
So here are the books on Weather Manipulation and Warfare so you can start educating yourself. I'll add more as I come across more.
Weather as a Force Multiplier: Owning the Weather in 2025
weather-force-multiplier-owning-the-weather

---
Weather modification: Programs, Problems, Policy and Potential – May 1978
weather-modification-programs

Michelle
Our Free Society