People getting sick around covid19 vaccinated people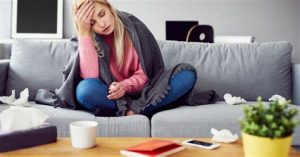 Here are examples of People getting sick around covid19 vaccinated people and I have another article with details here. There's tons, I'll only list what I read from someone online or my own experiences. It's called shedding and I don't mean shedding from the virus because there is no virus since this is ALL A SCAM, but from the toxins/poisons within the gene therapy poisonous shot.
"last cold/flu I had was Oct. 2019… 2 weeks ago on a Friday night visited a friend whose entire household was vaxxed… That next Monday morning starting with a bad cough, then my entire chest felt like it was on fire and a 101.4 temperature. Still a lil congested but feeling a lot better… worst was the first 3 days. My conclusion: Vaxxed people can get you sick."
She talking about getting cold and shivering… "I had the exact same reaction after my husband got the shot, as well as the worst periods of my life. Never got the injections. It angers me that their supposed 'decision for self' ended up affecting me and our children, I am angry at those that convinced him to take it 'to save himself and others'"
"I read about this «shivering» before. Then, one day, I met a somewhat distraught fellow, who had just had a minor self-inflicted bicycle accident. I helped the fellow up, and struck a conversation to assess whether there was something else going on. Eventually, Covid, Covid injections etc. became part of the conversation. The fellow had taken the injections to keep his job in the air transport industry, and he confided that since the shots, he was constantly shivering and could not find a way to stop it. I'm not sure about the physiological mechanism behind this, but there you have it. I'm writing from Vancouver, Canada, formerly a free country."
"The night after my partner got his second shot (I know, I know.. I was against it, but he wouldn't listen) I was sleeping next to him and woke up at 3am to the sensation that I was FREEZING cold. It was June, hot a hell and I was full-body shivering so badly that I had to crawl to the bathroom and get under the shower to try and "warm" myself up. I have had shivers like that before when I was ill in the past, but this was on another level. The shaking attack lasted 5 minutes and was the most intense and totally freaky immune reaction I've ever experienced. I was a few weeks pregnant at the time and started bleeding two days later. Luckily I didn't miscarry the pregnancy and proceeded to avoid getting the vaccines myself and stay well, but man it was weird. I know it's anecdotal but since then I've been pretty convinced that shedding is a real phenomena – interesting to finally see it confirmed!"
"Same here, worst period cramps since I was a teenager!"
"EBV reactivation? (Epstein Barr Virus.) It always feels like freezing cold to me and it always happens when I'm in close contact (hairdresser, physiotherapist, hugging …) with recently vaccinated/boosted people. I'm not so sure about long ago vaccinated ones."

"They usually talk about it and let you know, or I ask them subtlety, when I notice the symptoms.

It happened with my physio, first, because I thought she wasn't going to get the vaccine, and then I learnt she had had it 15 days prior to my visit. Then it happened with another osteopath and she had just got her booster. After that, I went and had my hair cut, thinking they were very young and not yet vaccinated, but I was wrong.

Last time, it was at a lunch with my husband's family, where I couldn't escape the huggs, without being rude.

These are really complicated times, I'm afraid.

Fortunately, I can treat EBV right away, using Biomagnetic Pair Therapy, which I learnt some 15 years ago, here in Spain, and changed the way we face pathogens at home. My youngest sons (15 and 25yo) have never had one single medicin, not an aspirin, not an antibiotic. If you find a Biomagnetism therapist, in your area, he/she can test for EBV and treat it.

Best wishes! 💕"

"Omg I had a similar experience but I had no clue he got his first shot. I woke up in the middle of the night having cramps like crazy and I don't have cramps ever, started my period and found it strange until I finished a heavier than usually period and Avon only less than 2 weeks after finishing my last I woke up with insanely painful cramps once again, this time I was sweating and felt nauseous while my belly was cramping like crazy once again. Next day second period. Finally my husband told me he took the first one and my friend asked if I noticed shedding and it wasn't until I knew he took it that it was definitely shedding. Thank you for getting this information out there's"
"This happened to me as well. I'm not married, live alone and not vaxxed. I woke up in the middle of the night freezing cold. It was a hot July night in Southern California so it made no sense to me. Next thing I got was shingles and to this day I still get weird headaches. I work in a office with 45 other people though. I don't touch them so don't know how I got shedded on." I found out a few comments down that "I did get the new Shinrex shingles vaccine in 2018 though." The death jab may have triggered the other poisonous vaccine she had in 2018.
"like many of you, i know many vax injured/killed people:30yo nurse at stanford. dead a month after 2nd dose, 2021.stroke after 2nd dose. my real estate agent, 2021.stroke after 2nd dose. homeless guy i met recently.my partner has even worse periods than ever, and feels sicker, when hanging around her "vaxxed"/"boosted" (ADEnhanced/VAIDS'd) roommate. particularly around the times and afterward, after the injection events.I myself now have casual body rashes of the type seen initially in injected babies.I spoke w a woman who was v/b while pregnant, and her kid tried walking at 2-3 MONTHS. And has a FULL HEAD OF HAIR. she knows it's the "vax" and told me so without my eliciting such an answer, bc her two prior kids were not like this AT ALL. i imagine many of you have seen the videos of unnaturally advanced, sickly, or black-eyed babies by now… plus heard of more miscarriage stories than gates can enjoy in a day."
"I'm going to share my personal andectodal experience regarding spreading covid too. My family of 4 along with another family of 5, rented a house together on the cape last summer. All of us unvaxxed except 2, their college aged son was vaxxed 2 months prior, and the father decided to get vaccinated 3-4 days prior to our trip. One day in, the father starts feeling sick (fever, body aches, chest pain, etc). He goes to an urgent care, tests positive for Covid. It swept through the house like wildfire. Within 2 days, we all started feeling sick. All 8 of us (except the vaxxed college student) got Covid from him. For the first 2 weeks after being vaccinated, these people seem to be "radioactive". They ARE in my opinion spreading it more. Numbers/cases are higher since the roll out than before, and I know of numerous people catching covid from a newly vaxxed person. They are def. spreading something."
"I agree..my unjabbed daughter had terrible menstrual issues the day after being around a group of vaxxed people. Then 3 days after that came down with delta. That was around the time boosters were being given."

"I understand your fear, I too was very concerned when I started learning about this March 2021. To reassure you, I experienced the shedding phenomenon early on. My cycle was all messed up, weird headaches, swollen glands etc. My cycle normalized a few months later, and has been normal since, the swollen glands lasted awhile longer and occurred frequently when I was around people, but would go away when I got home. My husband got mild shingles after my son's graduation party. We both have been fine since. I believe we may build up an immunity of some sort to whatever they are shedding. (I personally believe it's pathogenic spike proteins via exosomes, but I'm no expert)."

"snip… Lots of parents have similar experiences.

Personally, I went to the library yesterday for the first time in a very long time, because they finally stopped the mask requirement. Took my little ones for story time.

Guess what happened last night? My daughter started screaming for me at 1:30 in the morning. Covered in vomit.

My son wasn't affected, but I think he has a stronger stomach. He usually shows rashes from shedding, while my daughter does not.

This isn't the first time it happened. She was around someone last year, recently vaccinated, and had vomiting for 24 hours afterwards. No one else in the family got sick so it was not a stomach bug.

It's not normal and I'm so sick of dealing with sickness and pain every time we go out in public. I'm ready to just stay inside and only go out to see unvaccinated friends. I'm over it."
I'll add more to this article as I see them.
The bottom line IS… ALL DEATH JABBED ZOMBIES are a danger to us and I just learned that people are getting sick from pure bloods who are around death jabbed zombies. sigh
Michelle