What happens inside coronavirus hospitals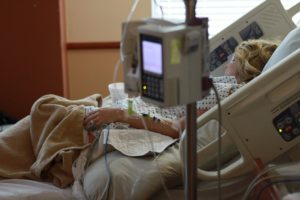 So I want to keep track of comments I see on what happens inside coronavirus hospitals.
Here are the comments
"My wife went to the ER in pittsburgh 2 weeks ago for what she thought was gall bladder and they wrote down covid19 at the door and forced her to sit in the covid waiting room and she realized and said no, this is a mistake, I dont have covid, and there were sick people in the room wearing their masks under their chins and she walked out and said she WILL NOT wait in there and the nurse said too bad, we already wrote down covid19 and just because others weren't wearing their mask didn't matter as long as my wife wore hers abd made her wait in the room with the covid patients. She had no fever or covid symptoms. It's a disgrace."
"This is absolutely true. I use to be a critical care nurse and patients were mismanaged way before this. I believe her because all her intervetions are correct. Hospitals are the Killing Fields. God bless this nurse. She is Brave. 🧐"and"There are some nurses and doctors that don't know what they are doing. Sometimes they are really tired and make mistakes. There are many drug-addicted nurses and doctors working with patients. These people are human and there could be some that just don't care. I want to believe that the majority of health care workers care about the patients but that's wishful thinking on my part."
This wasn't from a patient's perspective, but a tip here boss got just before the scamdemic started… "My boss's best friend lives in Afghanistan and he called my boss back in early February telling him to please take care of himself and not to go to any hospital if he feels sick or any cold or flu mild symptoms, he told him that he just got out of a meeting in the hospital where he works and that they had just received orders from their superiors saying that every severe sick patient (especially the older people) they receive just code it as covid19 no testing required, and don't give them medicine and to just let them die, and the mild ones just keep them and do the same, they know they are young and will survive. He said once you go to the hospital you don't know what they are going to do. My boss friend told him even though they received those order they were not gonna do that because that is against their principles."This means they were already directing their orders to all of the hospitals worldwide to kill people a month before the scare tactic showed up all over the MSM.
"I was Facetiming my brother at the ER in Anaheim Ca. He went in for stitches and they tried to push vaccines on him. His girlfriend had a slight fever (from a bladder infection) so they tested them both for covid. She tested positive and he didn't. They took her into a tent, drugged her with FENTANYL (which is for severe pain after surgeries etc and has a side effect of respiratory distress). She wasn't in pain. She's doped up and sleeping and they won't let him see her or speak to her. It was almost 7 hours and he's in the waiting room. The place is pretty much EMPTY. He walked out and back in without his mask and the guy at the front desk flipped his shit like a nazi and threatened my brother to put his mask on. Meanwhile a girl in a wheelchair sitting right there didn't have one…. They finally came out to tell him what was going on and I heard the nurse clearly, she said his girlfriend has covid because she's diabetic. She is not. I wouldn't believe this shit if I didn't hear it for myself. My stomach is in knots. WHAT THE FUCK IS HAPPENING!? We trust these idiots with our lives??? Before we got off the call, a little boy was taken to the front doors in excruciating pain. He was screaming like I've never heard anyone scream, so while their ER is empty, a child is suffering outside because they won't let him in due to 6ft social distancing. My brother had to go in and tell them to do something. A nurse walked out and right back in. The poor kid was still screaming. This is the fucking twilight zone.People have lost all common sense and logic. And I don't believe anything we're being told. They NEED covid cases, and they NEED people to have underlying health issues and they're using whatever means necessary to get them. Including falsely diagnosing people and drugging people with unnecessary medications.Believe what you want, but I just witnessed the scam.I'M FUCKING DONE HERE."
I'm going to wrap this up and add any additional comments in the comment section.
I just uploaded a video to my channel from a whistleblower nurse and I want everyone to see it. I'm pretty sure this is her friend from 1 1/2 months ago who spoke on her behalf.
She will tell you what's happening at least inside the Elmhurst public hospital in New York in Queens.
She's originally from Florida, but because there were almost NO covid-19 patients there because covid-19 is a scam, she decided to go to New York to help out there.
Little did she know that they were killing patients on purpose.
As I've mentioned before and uploaded evidence to my YouTube channel, they all lie about the patients.
According to her, first the people in the hospital lie and say the patient has covid19 when they don't, then they put them in the ICU, pump them with tons of toxic drugs, they vent them and then the patient dies.
They don't care what the patient has, so long as they can put down covid19 on the paperwork and vent them so they get their $29,000. It's clear this is their plan.
Then they can tell the powers that shouldn't be upstairs that there's one more patient they can add to the chart to scare the shit out of the entire world so everyone agrees to become a slave.
Here is the nurse's interview from 3 days ago…