Here is an Example of Evil Corp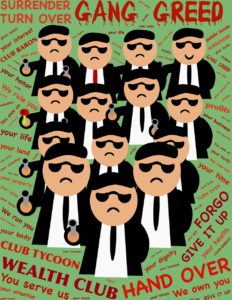 We've decided to show you an example of an evil corp and why we feel they deserve the label of "evil."
Make no mistake, just because your favorite company isn't listed here, doesn't mean they haven't done something similar to hurt people, whether that's their employees, customers, or our earth and all the living things that make up our ecosystem which keeps us alive.
If you have an example of an evil corp not listed below, please contact us or add it to the post.
Sears Canada and Example of an Evil Corp

Our first example of an Evil Corp is a story of Sears Canada's top executives who are set to be paid up to $7.6 million in bonuses, while axed longtime employees won't even see their severance pay?

Johnson & Johnson and Example of an Evil Corp

Our second example of an Evil Corp is that for years, Johnson & Johnson the pharma mafia company has been doing everything in their power to hide the fact that using their talcum powder gives women a 50% higher chance of contracting ovarian cancer.

We remember our grandmother using it and we too had some in our house. It feels so silky soft you wouldn't even THINK that it's deadly.

Of course the FDA hasn't done a thing. No news there.

Nestle an Example of an Evil Corp

Our third example of an Evil Corp has to do with Nestle and the Osceola Township of Michigan. It has a small population of less than 2,000 which is probably one of the reasons why the evil corp Nestle went after them.

Nestlé wants to build a booster station to pump 400 gallons of water per minute from this township in Michigan so they could sell their fake spring water at a huge profit.

They could be using money to help clean the water so people aren't forced to buy bottled water, but of course that would mean they can't rape our Mother Earth even more than they already have.

And for those of you who think bottled water is okay, yes some top of the line companies have created bottles that are biodegradable, but the cheap ones like Nestle haven't.  Plus most of these low end bottle companies either just put tap water in the bottles, or purify it slightly. It's not PURE quality spring water.

This nmanes it's not clean, pure or healthy,

When the Osceola Township denied Nestlé's application, Nestlé got mad and sued the poor township.

Nestle has also done other things, like fighting the people of Mecosta county when they found out that Nestle was pumping water out of their area.

In 2003 after years of costing the people over $1 million in legal fees, the judge ruled that Nestle was depleting the area's streams and wetlands.

Of course Nestle had to APPEAL to continue to bully this area even more and they finally settled in 2009, but Nestle STILL continutes to rape their land of water even if it's less gallons.

Now Osceola Township is already $30,000 in debt from fighting Nestlé, so if you can help them through SumofUs by donating even $1, that would be great, and please pass this along

Our Free Society has already donated.