Banking in Mexico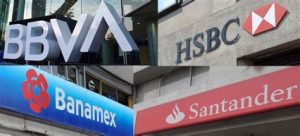 So what about banking in Mexico?
Well first off, if you are using a good US credit card that gives you great exchange rates, that's fine, but you still have to find a Mexican bank's ATM that won't force you to use their exchange rate, but on the screen it should give you the exchange rate and then asks you if you want to use it. You just press "no." It doesn't cancel the transaction.
And you want to make sure that your bank is giving you a good exchange rate.
Banamex bank is a good bank. It gives you the exchange rate your bank gives you, but some people's banks are small and aren't meant for giving you a good exchange rate, so make sure you investigate which one is better.

If your US bank account doesn't refund you the ATM charges, then you have to find Mexican banks (I find they are the smaller less well known ones) that charge you a low amount for the ATM fee. Somewhere between 17-25 pesos. I recently went to a BBVA bank and was SHOCKED that they charged me 145 pesos and because I was with a Didi (it's a scam company here that is like Uber or may even be owned by Uber), I had no choice but to take it from that bank. HSBC recently raised their ATM fee from 80 to 85 pesos, and I'm assuming ALL banks are going to increase their AMT charges to scam us for taking out money. This is part of the plan to steal our money from us so much that we have nothing left and we die because of it.

I'm not sure if these banks charge us more because we have a foreign debit card.

I was going to a small bank with no issues for months and then one day I figured out that it wasn't just because they didn't have money left in their ATMs, but because my card was foreign that it was telling me it couldn't do my transaction. I was furious. I still have to go in and talk to them, but just like with most typical locals, they just shrug their shoulders and don't solve the problem.

There are some US bank accounts that cover all of your ATM fees or upto $10 per month, but like all banks, they are getting worse and worse because remember, the evils own the entire banking system WORLDWIDE and MasterCard is also owned (I'm sure Visa is too) by the evils. If you are a Truther and Activist, they will eventually go after your MONEY like they will with everyone even if they aren't Truther Activists.

I used to have a Schwab account and they just shut it down for no reason, so I don't recommend them at all. Capital One has an account that gives you good rates (I think), but the girl today said they don't refund the ATM fees.

Here is a few others, but some only give you refunds on ATM fees in the US and some charge you 1-2% on all debit card transactions. Aspiration, Betterment, Alliant Credit, Union, First Republic Bank, Fidelity, USAA (only for the military or if you have a family member who was in the military), and Ally Bank (not a great bank).

Here's what someone said about the Mexican banks' restrictions and I've heard about how restrictive Mexico is in other areas too, but I can't remember what they were referring to.

"I've banked with BBVA since 2016. They have pretty severe limits… Only 9300 pesos a day can be withdrawn from an ATM. And 99,000 pesos per month. If you reach the monthly limit, let's say on the 25th of the month, you cannot take cash out except from a teller window. Not good if you're traveling abroad when you hit that limit.So today I inquired at HSBC… they have a daily ATM withdrawal limit of 50,000 pesos and no monthly limit on ATM withdrawals. I'm switching to HSBC and leaving my BBVA acct open for very limited use."

Speaking of BBVA, someone can send you money via BBVA and you go there with the code and withdraw it. You don't need any debit card to do this.
I've been told by many expats that Intercam is a bank that will give you an account even on a tourist visa. Here's the link, but check on their customer service. Remember, in Mexico there's little to NO customer service.

Mexico is terrible when it comes to their fraud protection on merchant accounts. I've had nothing but problems using my credit card here in Mexico. I won't mention which credit card company it is other than to say it's huge. Any time I try to purchase something online here, my credit card gets declined, but it does NOT get declined from my credit card company, only on the Mexican end because I've called my credit card company 3 times, and even spoke to a manager, and they don't see ANY declined transactions on their end.

This has happened even in person with ETN which is a major bus company here, although I heard that they are also owned by the same person/company as another bus line. It's happened with Tel Cel which is a major cell carrier and forget about me buying computer hardware from a computer company because I've tried it several times. They all use Pay Pal and Pay Pal wouldn't let me use my credit card saying my email address (brand new one that I set up when I got here) was flagged. LOL That's scam Pay Pal for ya. They will come with any excuse to screw with your money.

If you don't know this site, take a look at this site and this one and I'm sure there's more, but the one I really wanted has disappeared or something happened to it because all of the stories are gone.

I was NOT going to add my credit card to my Pay Pal account because Pay Pal is a terrible company not to be trusted and they already have my bank account, but that wasn't good enough for them.

So Mexican companies here don't care about losing money (I have tons of examples of this) so I won't be buying my computer hardware from those two.

The ONLY companies where 99% my credit card works are restaurants and hotels. Oh, and Oxxo which is Mexico's version of a 7 Eleven where people also pay their bills and send money all over the country.

Considering Mexico is a tourist country with thousands of expats, this is shocking that 90% of my time my credit card doesn't work AND when I was overseas it worked all the time.
I know there's not much information here, but I'm going to publish this now and if I come across anything else, I'll attach it as a comment.
Hope this helps.
Our Free Society
A knowledgeable mind will set you FREE and so will using Natural Law to fight the evils and evil collectives. Remember, according to Natural Law, if you or anyone you know is under attack, spiritually and lawfully you are allowed to fight back even by killing that person!
Truth, connecting to consciousness, learning how to love and respect yourself and then others to build a better world is ALL that Matters, and then taking ACTION!