Building a House in Mexico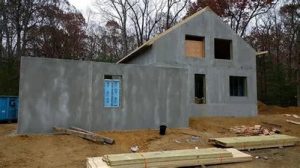 What to expect when building a house in Mexico.
This thread was great so I decided to include it. I won't put quotes around every person's text to save on time and I'm not editing their terrible English LOL Each number is a different person. Unfortunately there weren't as many people responding as I had hoped.
"One little thing that could improve things a lot: never absolutely never leave any workers unattended. Even the most boastful construction or achitecture team will have Awful executions sometimes, not to mention they could wreck your floor if they work on the walls or the roof for instance (in the case of renovations). Yes, you will have to sit there or bring something to read but only you will care and you alone will pay for extra solutions or damages if they happen."
Brace yourself for a ton of waiting for material and people to show up.
Verify measurements yourself.
Get someone you trust who has built to be with you to verify things with you.
Don't give too much money upfront if you are going to outsource the construction. Both my neighbors have unfinished properties (one is not even livable) because their builders bailed.
get more information before choosing a builder.
be present or nearby during the entire construction
build simpler with higher quality, or agree to pay more for what you actually want.
do not allow builder to make decisions without your approval
Never built a house but my brother in law built a 3 story house with an entire story to get to the main door.
Water is an issue for flushing and bathing. Strong electrical outlets. Put ceilings fans everywhere if you are in warm climate.AC in bedrooms. Do a 1 story if you are old and your knees can't take the climbing.
In Mexico, most architects are also builders. Very common.
Do not use Puerto Penasco sand, we had sand brought to the city (I asked why) – " it has salt in it, any time you see walls or anything else popping mortar off it was local sand" Fyi, columns in walls are because of tremors
I'm building right now, I would have been more hands on from the beginning. I am now and also in charge of payments. Each week I must see progress for the payment made. Things are going well. And I'm building out of the ordinary for here, but the builder loved my vision.
Have more money
You need to watch them work… Even if your just sweeping up… It will make a differance to the completion time.
Buy good materials, get a discount for using the same company.
Prepare for swimming pool leaks.. So don't finish paying for a few days after completing… All the water went straight under the house.. Took 3 weeks to sort out the leaks.. Used the new style pool matting.. Leaks were next to the filters.
Picking up people ready to work a days work is easy!!!!!! …. For the simple tasks… Using the construction company workers are more expensive.
Checking things like drainage on everything…
My best friend build a Hugh house and it has alot of silly problems due to people not using their head… Bathroom slanting floor to drain… On the terraza also wrong drainage.. A leak on one of the full bathrooms into the pool.
I have seen all of the issues and more. How about a patio that slopes back into your house. You don't find out about it until rainy season when you were not home
Build/Buy in a location where you'll see an increase in property value of the next five years. (a zombie of course who thinks we will still be ALIVE in 5 years)
Unless you have money just throw into the fire I don't see the financial gain of building or buying anything in Mexico
if u have an option buy/build north of the boarder, use that to fund your life in mexico
Dont build a woodhouse, All house in México are solid concret with tick bricks. Why not wood? " fire, termites, rot, hurricanes will blow it away."
Buy up the land around it so your view won't get ruined!
Im in michocan getting ready to do a 600sqM build and I won't be using locals. I won't be buying anything local except pre-mixed concrete. My team will be flown in from all over Mexico based on my experience of renovation on 2 homes. This house will be built from ICF
Specify how the foundation is built , here in the yucatan it's still done like they did 100's of years ago. It's worth the money to find a good archtect to get things going . If you have a contractor he will abide by the architect's plan and instructions. Other words no short cuts. JMO
A guy who knows that most Mexicans lie about what they can do… "in Zamora they ALL lie and say they can do what they can't do. Their quality of work is a 5 out of 10. I will fly in my GC from a Paz, my flat work people will come from Leon and our ICF will be bought in Chiuaua along with the windows and doors. https://www.icfmexico.com/"
Keep in MIND you will get taxed up the arse if you don't SAVE every receipt. When you go to sell Mexico now requires you pay capital gain tax. So if you buy land for say 100K usd and build a 200K house. That is 300K in your mind and lets say you sell for 500K that would have a taxable base of 200k in your mind. IF YOU HAVE NOT SAVED YOUR RECEIPTS you will pay tax on 400K.
If your contractor does not have a Factura, in which he/she pays taxes, then your receipts are invalid or not worth the paper their written on.
Why they don't build wooden houses here – "fire, termites, rot, hurricanes will blow it away."
Be prepared to supervise. A lot.
• Make copies of everything. ALL documentation. Permits, company's registration at SAT, receipts, blueprints, warranties/guarantees, workers ID's etc
• Spend a lot of time on the basics – plumbing, electrical (Running lines for internet)
• Go simple and high-quality
• Avoid fancy appliances – anything digital – expensive repairs, difficult finding trained technicians to do the work and massive wait times for replacement parts
• if you can afford to buy double-pane – Do it!! It will help immensely with temp regulation and dampening of sounds like fireworks, parties, barking dogs etc
• Set clear deadlines and revision dates before allowing workers to move on
• Look into energy-saving options. Solar panels for heating, "low-flow" taps
Have a cooler full of cold beer, Coca-Cola, snacks and patience.
Here's a fb group on this specific topic for anyone who still has an account.
I hope that helps.
Michelle
Our Free Society