Erewhon Market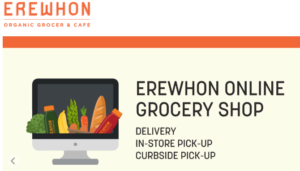 Erewhon Market, you are just an evil corp that is participating in bringing humanity down.
You are clearly brainless if you don't even know that humans have an IMMUNE SYSTEM meant to fight off all types of infections and it's only the criminal allopathic industry that lies to people and tells them that they can get all sorts of diseases just by being near someone.
And that stress from imprisoning people in their own homes, not allowing them to be around other human beings and forcing them to cover their mouth non stop for hours so they can't breathe has ANYTHING to do with HEALTH.
You do know that human beings need to breathe through their mouth and nose, RIGHT???
And you call yourself a health store?
Let me guess….  You just want to overcharge people like your competition Whole Paycheck so you can become RICH!!!
You don't care about people, you only care about your money and helping the evils imprison the world.
You are either totally MORONIC, or you are in on this scamdemic.
Which is it????
People, if you want to know what prompted this flyer and my rant about the flyer, you can watch this poor guy's video about how Erewhon Market in Venice Beach, California refused to let this guy in to buy his groceries and he's been a customer for over 3 years spending 10's of thousands of dollars.
What was his crime???
He refused to wear the MASK that the evils of the world are ordering EVERY single person worldwide to wear even though it's a hazard to our health.
I believe the masks may be poisoned and when I'm forced to wear one, I can't breathe and I start to feel sick.
I am a very sensitive person, meaning if I eat something that is toxic, my body reacts right away.
If my nose smells something that is toxic, it will affect my brain and/or body and even when this mask is pulled down on my chin, it is doing something to my chin.
I start to feel dizzy and numb, like something is wrong.
When I'm not wearing one, I feel fine.
Here's the video…
Here is the flyer you can print off
Print this off, carry several copies, hand them out to everyone and read it off (loudly if you can) at any store you don't need to get into. For the ones you do need to get into, don't do it because they may bar you and I don't want you to go hungry.
Freedom Flyer
"Claiming 'you're just doing your job,' is a nice way of saying you're 'a blind mindless follower too lazy to think & you dont care if you're doing the wrong thing as long as you're getting paid to do it!"
"My rights don't end where your fears begin!!"
"America is under attack by fascist dictators, disobeying the Constitution, & their unquestioning brainwashed lemming followers!"
"We have people more interested in following unlawful orders to keep jobs, than doing what's right!"
"I prefer the risks of freedom to the assurances of safety, tyranny & incarceration!"
"Restrictions, encumbrances, & impositions based on keeping you safe, is an attack on YOU!"
"I would rather live in America & die from disease with my full rights, than live in China & live under the safety of no rights & tyranny!"
"If this store was a country it wouldn't be the USA w/ a Constitution, it's a North Korea of despotic tyranny!"
EREWHON MARKET, Venice Beach CA. "Organic Foods" Tyranny!!!!!
"HEALTH FOODS NOT TYRANNY FOODS!! HEALTH FOODS NOT TYRANNY FOODS!!!"
"WHEN DID THIS HEALTH FOOD MARKET TURN INTO A TYRANNY FOOD MARKET?!!!"
"WHEN HEALTH FOOD MARKETS BECOME THE ENFORCEMENT ARM OF THE GOVERNMENT, THEY'RE USING HEALTH FOOD TO SELL FEAR!!!"
"WHEN HEALTH FOOD MARKETS FORCE PEOPLE TO OBEY, THEY STOP BEING ABOUT HEALTH & START BEING THE ENFORCEMENT POLICE OF GOVERNMENT!"
"I was just doing my job is what every Nazi claimed he was doing!!! Was it the right thing to do?!"
"The Nazis justified their actions by saying 'everyone's doing it'!"
"Is this health food store going to start requiring tattoo ID numbers on customers when Gavin Newsomes gives you the order?"
"It's the BILL OF RIGHTS, NOT THE BILL OF SUGGESTIONS! And you're ALL in violation of the law!!!"
"There is no clause exempting the enforcement of the Bill of Rights, because of an act of war, much less A VIRUS!"
Health foods, not hypocrisy foods!"
Please consider purchasing any of the items listed on the banners or donating to help me pay my bills so I can continue bringing you truthful content.
I have used every single item I recommend.
Click here for the Donation Page
Much appreciated
Thank you
Michelle