Holocaust Update for October 2021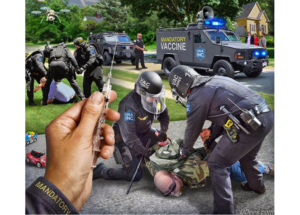 Here is the Holocaust Update for October 2021 and I'm very sorry it's taken me so long to get this out to you.
People who have spouses or domestic partners who aren't taking the covid19 death jab won't be allowed on Ochsner Healths medical insurance. This is a hospital network. No surprise here. I wonder if people's religious or medical exemptions would fly, but what about the REST of us who don't believe in religion and aren't sick to the point that this would work??? Video.
Nazi Patreon (I never liked Patreon) removed  EVERYONE who used the word covid in their account even if they cleaned it up after they were told they would be removed.

I'm pasting this here. A person asked someone if they felt they should bring up the death jab during a job interview.

"Bring it up during the discussion. Otherwise, she will be in another rude surprise and disruption to HER own life and schedule if she is let go even before she starts work. She should broach the issue as "does your company eliminate personal health and medical freedoms and enforce medical treatments as conditions of employment?"

She actually suggested (and I agree) that it should be brought up even before you go in for the interview so you don't waste your time.

Ok, China is putting Muslims into concentration camps. Video.
I know this is old, but I needed to discuss it with a braindead and was amazed I had no proof that the George Floyd killing was fake. I'm shocked there wasn't much about it anywhere. I got what I could. Video.
Clones and CGI masks. Video.
There's been a couple of videos about babies born after the braindead mother took the death jab. Yes, there's the video with babies with the black eyes, where they can crawl or walk before they should, but I didn't trust the video, so I didn't upload it. This one was a bit more convincing. Tails and hair, but if you have any proof it's fake, please let me know. Video,
This is a good Hungarian video where I did learn a few things I didn't know before. Video. If you speak Hungarian, you will be able to listen. There are English subtitles.
An older, but good Carrie Madej video because it gives a good breakdown of the different elements in the death jab. Human 2.0 Video.
So if you didn't watch the other one that I uploaded from July 2021, this is the exact same one with a few differences. Shockingly it got very few likes and NO comments. Why do you think that is? Video.Now I don't trust the second or first video completely. I looked into the name at the very end of the second video in the credits, and that guy is a trumpet worshiper. Why is he aligned to people in the Netherlands?And why in the second video did they omit the name of one of the top level evil families?And why didn't we get the new information she promised months earlier instead of the same info that was in the first video. There was one new piece they added in the second video about the Young Global Leaders, but that was it. The only difference was that it was a guy narrating instead of a woman. HIGHLY suspicious.
Natural doctor talks about the death jab. Video.
Another good song from Media Bear. Video.
A construction worker speaks his mind about the death jab. Video.
Our supply chain, worldwide, is being DECIMATED by the evils. Video. If you don't know what that means, it means you won't have food or things to buy pretty soon.
Another one of Jud's good rants about the mafia government. Video.
The only good video by non other than Weird Al Yankovic. Who knew he was a truther LOL. I combed through his YouTube channel and everything else wasn't worth uploading although I did upload this song making fun of the blood thirsty whitecoat surgeons that everyone worships.
Mike Pompeo admitting that the CIA lies, cheats and steals as if you really need evidence of that. Video.
For parents – Video. And if you already do this, my heart goes out to you.
Are you really an individual? Video.
I FINALLY got my proof that the toxic PCR test (among other things) is there to collect your DNA. Video.
Fear and social control (if you let them) – Video.
You've probably seen this already, but my comments and questions should be discussed. Video.
A great quick breakdown on the death jab that you can show to your walking dead to see if THIS will wake them up. Video.
Yes this movie was created by the evils, but remember that the evils always use predictive programming and this is IT. Video.
All about CRISPR, Psycho-Neurobiology, and Dr. Charles Morgan and the evils and what they do to our brains. Video.
How they replaced all of the whitecoats who quit in the hospitals with FEMA whitecoats. Video.
What Dr. Carrie Madej and her peers found in the death jabs. Video.
Patents that the death jab shows that you are an obedient robotic slave. Video.
Citizens hired to spy on you. Video.
The 1986 Act. Now I have my suspicions that this was done by the evils, but it's still very educational. PROOF that ALL vaccines are deadly or at the very least will maim you. Video. I figured out back in 2020 that the evils don't give a shit about telling us the truth anymore. They already feel that they've won.
No one is saving the kids from the tunnels. As usual, it's ALL a lie and part of the trumpet Q psyop. Video.
Do you want to remove the evils from power? Video.
They aren't human, so what are they? Aliens, robots or both? Video.
Ok, so that wraps up all of my videos that I managed to upload in October.
I hope you learned something.
I hope you are well on a myriad of levels.
Hugs
Michelle
Our Free Society – ONLY if you fight for it!