How to stop my employer from forcing me to take the covid vaccine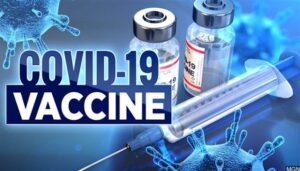 Are you wondering how to stop my employer from forcing me to take the covid vaccine?
Your employer should NOT be forcing you to take the covid19 vaccine which is a death jab! They are either doing this because they are part of the evil collective behind this eugenics program, or because they are ignorant, or they are scared of the government.
The only way you won't get harmed is if you get the fake one which is their saline solution, although I'm sure they put the nanobots (graphene oxide) in there too. See this video. These nanobots are making people very sick and brainwashing them, so the more you wore the masks, and the more you got numerous PCR tests, the more you are now under MIND CONTROL.
So this isn't full proof, nor is it legal advice, but it's one step below giving them an NoL (Notice of Liability) or NoC (Notice of Consent) to your employer.
Remember that the REAL law is the laws that give us rights, not the fake laws used to control us. Those are the laws in the mafia government-run legal system.
Make sure to insert your local health services agency and if you need me to give you this in a Word doc, just reach out.
If you want the official NoL document, go here to Mark's site. If you go for the memberships instead of the singular documents, get 5% off with this Coupon Code – OurFreeSociety.
You can also read this which will get you up-to-speed on how everything in life is a contract, so you should NOT sign their bloody contract in exchange for money so they can fire you. They know they can control you because you need money, but PLEASE learn some of the real law before you do anything.
Thank you to Collette for providing this to someone who's being forced to take the death jab by their employer.
The secret is NOT to refuse it.
Instead, hand your employer this letter. (I've edited it for clarity)
I'm editing this on 09-20-21 – Thanks to Earl my online friend. The document needs to be notarized and you need to send it certified. Get a color copy (not black and white) of the notarized one because the imprint from the notary is hard to decipher sometimes.
Send them the color copy via certified mail which has recorded delivery so there's proof it was sent and received.
Start of letter
I write with regard to the matter of potential covid vaccine and my desire to be fully informed of ALL facts before going ahead.
I will be glad to accept, upon these conditions.
I would be most grateful if you could please provide the following information, in accordance with statutory legal requirements:
Can you please advise me of the approved legal status of any of these vaccines and if it is experimental?
Can you please provide details and assurances that the vaccine has been fully, independently, and rigorously tested against control groups and the subsequent outcomes of those tests?
Can you please advise me of the full list of contents of the vaccine I am to receive and if any are toxic to the body?
Can you please advise of all the adverse reactions associated with this vaccine since its introduction?
Can you please confirm that the vaccine you are advocating is NOT 'an experimental mRNA gene altering therapy'?
Can you please confirm that I will not be under any duress from you as my employer, in compliance with the Nuremberg Code?
Can you please advise me of the likely risk of fatality, should I be unfortunate to contract Covid 19 from the vaccine, and the likelihood of recovery?
Once I have received the above information in full and I am satisfied that there is NO threat to my health, I will be happy to accept your offer to receive the treatment, but with certain conditions – namely that:
You confirm that I will suffer no harm.
Following acceptance of this contract, the offer must be signed by a fully qualified doctor who will take full legal and financial responsibility for any injuries occurring to myself, and/or from any interactions by authorized personnel regarding these procedures.
In the event that I should have to decline the offer of vaccination, please confirm that it will not compromise my position and that I will not suffer prejudice and discrimination as a result?
I would also advise that my inalienable rights are reserved.
End of letter
The last point being that they CANNOT provide you with any of the information you've asked for and yet, you have NOT refused their offer.
What they are doing is giving you an offer for a contract.
All transactions in life are offers of contracts. You have the right to accept or reject an offer. It's something we ALL have to learn because the evils have been hiding this from us for hundreds of years.
We learn these things in my REAL LAW study group.
I hope this helps you! How to stop my employer from forcing me to take the covid vaccine.
Michelle
Our Free Society
You have to work for your freedom because we've never had any. It's time to wake up to the fact that we have ALWAYS been SLAVES!