Why people are getting sick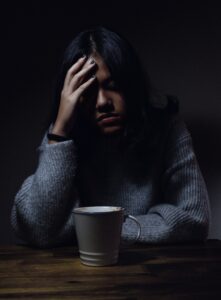 Here are my thoughts on why people are getting sick.
If you don't already know, I don't believe in germ theory. If you still do, here's a long page with tons of links (the ones that haven't been taken down by nazi goolag) that prove that viruses don't harm us. I've gone back on forth on whether viruses do exist and I think they do, but they are NOT meant to harm us. This is not how our creator created us to get SICK.
So the reason the evils lie about the viruses isn't just to get you scared for no reason, but because they have their deplorable scientists manipulate the viruses in their Frankenstein labs and made them very very toxic. They made them into a BIOWEAPON.
This is called gain of function.
So my question has been since almost day one, WHY are people getting sick.
I knew it was the evils poisoning us because LOOK at how many poisons we are subjected to per day and you tell me how the natural human body (even insects and animals), can remain healthy with all of that.
So here's my summary. If you have any ideas you wish to add, please forward them to me.
The constant onslaught of radiation from all things wifi, cell towers, and your cell phone (especially toxic smartphones.) The more your cell phone is like a computer, the more powerful and toxic it is. Buy yourself an EMF reader to test. I bought this one.
Their 5G weapon that works with LED lights. Did you know that anyone associated with the evil collective does NOT have 5G in their neighborhood? That was trumpet, KILL BILL (Bill Gates), even the Rothschilds and I'm sure the rest of the evils and people associated with the evils. There has to be more evidence of this.

The mosquitos that KILL BILL has unleashed onto the world. I know he released them in India because someone told me he was attacked by a swarm of mosquitoes, and no matter where he ran to, they followed him.

KILL BILL also released them in Florida and Texas. See this report.

Look at THIS lovely video which shows where his DERANGED mind is at.

It's no different than when the American government create Lyme disease which most people don't know is a bioweapon. See article.

I'm pretty positive they have increased the amount of spraying they have done with their toxic CHEMICALS. You can watch this video here and here.

They have been doing this nonstop since around the 90s or even before.

But my guess is that they are spraying more than just aluminum, Look at this video which shows how a woman who lives out in the middle of nowhere in Vermont is soaking in ALUMINUM which made her snow toxic to her dogs.

I wish she had had them test for other chemicals, but I assume they would have needed direction on what to test for, and we don't know what the evils are spraying. I heard thatsome very toxic chemicals are very very tiny and need special testing equipment.

Not only does it harm you, but it also harms all of your vegetables and livestock, so anything you eat has NO nutritional value. It even kills the trees.

Your body NEEDS vitamins and minerals and if you don't get them, you will start to get sick with symptoms (NOT DIESAEAS). The word "disease" is some BS lie the allopathic mafia medical industry came up with to get you to believe you need a toxic DRUG for everything that is making you feel sick.

Think of it this way… you have a symptom, then you have to get to the root REASON for why you have that symptom.

It's not easy because it no whitecoat knows how to do this or cares, and most holistic practitioners are the same way.

Remember the TV show "House?" THAT'S what every doctor should be doing. Minus the toxic drugs at the end, of course.

Most people don't know that you can make yourself very sick due to fear or trauma. This is a documented fact. You can read this site of how this German doctor figured it out. And years ago I heard from another doctor that during his internship he figured out the same thing. That all of his cancer patients had a huge trauma right before they came in to see him. Most whitecoats don't care or even bother learning this stuff, so they won't even ask you.

If you sat in front of the lying mainstream media (MSM) and believed everything the criminal government reps and the MSM talking heads who are paid close to a million dollars per year tell you, then you will be in a constant state of fear even IF none of what they said is true.

I even talked to one woman who was CONVINCED she was going to get sick, so months later she got sick.

You can talk your body into anything and if you want to be a part of the "crowd" so you can get sick, then get sick, but do NOT blame it on some fake virus. YOU made yourself sick because you don't want to know the truth and you like being sick.

Based on this scamdemic, we saw how many hypochondriacs there are out there. That's a mental disorder and you need to heal yourself.

Here is a list of alternative therapies.

Lastly, last year several people noticed a white film in their water or an increase in chemicals in their water. After I read that very very LONG thread on facebook when people were coming up with the idea that this was a bacterial infection through feces. Yes, the evils COULD be spraying feces from very high up and you would never smell it because it's being dropped from so high up. Or they could be putting it into the water.I once smelled feces in my water after a truck came by at 2 am, did something and then left.

I remember when I moved into a new apartment and my hands started to hurt me after washing dishes.

So after reading this thread, I came to the conclusion that they could very well be poisoning the water. And they probably had been doing this even back in November/December 2019 so it would filter through each country and make people sick.

What they put in the water I don't know and I wish people would have tested it. They still can.

It's way too expensive where I am to test it. I don't have $350 USD to test it.
If I come across anything else, I will add to this article.
I hope you are doing well.