Help for your protests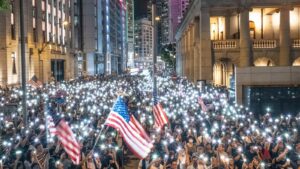 So as many of you know, I don't agree with protests, but in this case, the way it's outlined by this site's outline, I agree with the methods so this will be help for your protests. I've edited it for any mistakes and added in a few of my words as well. It was written last summer.
The only thing that's missing is do NOT take the PCR test! You must add that into your plan below. I added it in for you.
More and more people are becoming very sick because they continue to take the PCR test. In fact, I'm pretty sure this is one reason why so many people have gotten sick in the last 19 months, because they took the poisonous PCR test.
In the last week, I've talked to, or heard of three people who got sick all because they took the PCR test.
The PCR test has always been dangerous to take. It also has graphene oxide in it (see video here) and also brainwashed people which is why the evils wanted you to take it over and over again. See the article here.
Protests
Protests done correctly, can be a great way of raising awareness. This section will outline how to advertise your protest, then some things that should be included within your protest to have an effective results-oriented protest.
You need to remember, there has been a lot of psychological manipulation on the entire world the last 100 years through mainstream media which includes conditioning people into thinking how protests 'should' be done. Many movies and mainstream media outlets have conditioned people into thinking a protest is simply having a "march" with a lot of people with "signs", and then somehow magically that effects change.
While that is a good start to effect change and initially raise awareness, you need to do a lot more to make an effective protest.
The stuff you see in "the news" – is the stuff that the media has been GIVEN PERMISSION to show the "public".
The mainstream media is owned by a handful of individuals. And unless it goes along with the cause/agenda of those that own the media want (aka rich powerful globalists – From Michelle – I call them evils, not globalists) – you are unlikely to get the coverage you want, or any at all if you do get any.
Here, watch this clip from a longer video.
For example, right now "BLM" protests are popular to further the globalist agenda. Division, control, etc. So these types of protests get lots of media attention in order to cause a race divide.
The media treats participants like "heros", in order to try and encourage others to participate in similar actions. However, those people protesting against say forced masking are generally labeled as "anti-maskers", and 'villains, in order to try and deter other people from joining a legitimate cause. So unless your protest goes along with the 'globalist agenda', it is unlikely to get the attention you want from the mainstream media.
This document will outline some methods of how to make your protest fantastic. How to produce results and effect change. And we are going to discuss protests specifically in the current climate (i.e., no forced masks, no forced PCR tests, no forced injections, no small business closures, no digital ID/'mark of the beast', no 'vax-passports', etc, etc. Re-open schools, re-open churches, re-open businesses, etc.
Strategic Locations/Attracting Like Minded and/or Open Minded People
Unless you are staging a protest in an extremely small town (i.e., 5,000 people), generally speaking, most of the town/city will be unaware of your protest.
i.e., if you protest on street corners downtown, many times unless someone regularly goes downtown, they'll never hear about you. Likewise, if you are say on the 'south' end of town, someone in the 'north' end may never hear of you, especially because they may never drive to the south end except on the odd occasion.
So this is what you do?
Map out the city (i.e., google maps of your city) and look for the green spots. Figure out where the major parks are.
Get a group of 5-10 volunteers to post signs one week before your protest. Do a quick blitz on the same day.
So if there were 10 major parks across town, you would visit all 10 major parks.
Right now the people who are at least "somewhat" aware of what is going on tend to go to parks – they want EXERCISE and FRESH AIR. They may not know that there are people fighting against tyranny, so this is one great place to reach them. AND – you get CITY-WIDE coverage (not limited to a small localized area).
To post signs discreetly, post them in areas like bathroom stalls, on the back of bathroom doors, picnic tables, trees, etc. They are more likely to 'stay up' for a period of time without someone taking them down.
You may also be able to digital advertising on platforms like facebook. Don't spend a lot – maybe only $10-$20 – but you can run an ad campaign to link to a specific event. Also – realize facebook is not the only source of digital advertising. (from Michelle – I don't think fakebook will allow the ad, but you can try, just use another fackbook account, not your own.)
Partner with like-minded individuals in your city and ask them to send out an e-mail blast (if they have an e-mail list).
Sign Design
Some people like 'fancy' designs, some people like 'plain' designs, some people like signage that are for 'protesting'. What you want is a sign that gets NOTICED, and a sign that gets ACTION.
All the pretty flowers in the world don't make a difference if someone doesn't notice it or attend your protest. So this is what you do.
What kinds of signs do YOU pay attention to?
You probably pay attention to signs with BIG BOLD letters (i.e., "50% off!"), signs that say things like "WARNING" or "NOTICE", and signs that are simple/easy to read.
Finally – you pay attention to signs that have a CALL TO ACTION, aka – what do you want people to do (you want them to go to a protest).
SO – you design your sign in a similar fashion.
Below is a sample template you can use for your protest. Notice the simple eye catching design, clartiy and call to action. Use this template, or design something with similar design elements in mind. Other design elements could include a QR code to your protest website/event page, or your actual website link for more information, etc, etc.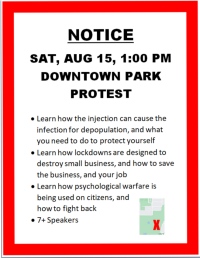 From Michelle – his image is very small, but I don't have time to redo it. You should get the idea.
If you need to use my site for a protest, just reach out well in advance and provide me with the text (well-edited) and I'll put it up for you.
AT THE PROTEST – HOW SPEECHES SHOULD BE STRUCTURED
At this stage in the game, most people showing up know something is wrong, so if all you have are speakers telling them the same thing they already know, it doesn't really help. Sure, it may give them a little more information, but it doesn't tell them WHAT to do with that information.
So – for your speakers, a good format is as follows:
Set a time limit, say 5-10 minutes per speaker. This helps keep them on point and keeps the attention of the audience. Any longer and many speakers (unless they are good and know what they are talking about) become verbose, and potentially put the audience to sleep.
For the actual speeches, instruct your speakers to have information about a "problem" (i.e., forced masks, forced PCR tests, forced death jab, etc) – and then ask them to provide a SPECIFIC ACTIONABLE SOLUTION. (i.e., websites to get templates to write to small businesses asking them to reopen mask free, what to say in a letter to a small business, how to make an appointment with a preacher/pastor/etc to reopen, specific websites to go to, to download that information, etc)
Then, at the end of their speech – ask them to set a SPECIFIC DATE for AUDIENCE members to TAKE ACTION. (i.e., "when you go home tonight, please take 5 minutes to send off this e-mail" or "make sure you speak to 3 people this week about re-opening your church", etc).People need a DEADLINE. They have been conditioned most of their life to operate by them, so you NEED THE SPEAKERS TO SET A DEADLINE for the actions.
At the END OF ALL SPEECHES, you (as the MC/organizer) should SUMMARIZE all of the speeches (1-2 sentences per speech) as well as the main ACTION STEP from each speech (1-2 sentences). This helps people remember what to do when they go home that day. (from Michelle – you will need to get their speeches ahead of time in order to do this)
RELATIONSHIP BUILDING
Protests aren't just about showing up and holding signs, they are about BUILDING RELATIONSHIPS. Getting audience members to set up their OWN meetings to take action.
So, you should include the following:
Warm up Games: As a warm up (beginning of speeches), and warm down exercise (end of speeches), have the MC (master of ceremonies) play a few 'relationship builder' games with the audience.i.e., tell them you want them to meet new people at this protest to discuss ideas in the future.Then ask them to turn to an audience member to their left that they don't know, shake hands and do a brief introduction that they don't know. Then, after 2-3 minutes, ask them to turn to the right and shake hands and do a brief introduction with someone they don't know.

The idea is that once this protest is over, these audience members will keep in touch with others that they have met. People tend to only "hang out" with people they know unless they are 'given permission' to meet other people. You want to encourage that. That is how you affect change.

Getting Audience Contact Info: As an organizer, you should be getting contact information. Run a freebie raffle (maybe a $25 gift card), and have people put just their first name and e-mail address into a container that has a top on it. Let them know you will be emailing them after the protest and when there are more opportunities to join and fight together.Having a top on the container prevents some unscrupulous person from simply taking a photograph of all the names/emails and potentially causing issues.After the protest you can follow up with an e-mail of specific actions these individuals can take to fight back.

Have someone you trust manning the station/watching the jar with a top on it (so no one steals it, etc). It also gives you the opportunity to contact participants for future rallies and helps ensure that your rallies GROW.

Announcements – You should have a set of announcements either at the beginning or the end of the protest. This will let audience members know about upcoming events such as other protests, churches that are open, businesses that welcome mask free patrons, etc.Not only will this help boost the freedom fighting movement in general, but when you need assistance in promoting your rally – they can do cross-promotion for you too.
FINAL CHECKLIST:
To ensure your protest runs smoothly:
Speaker System: Make sure you have a good speaker system and a backup generator to run it on (in the event electrical outlets don't work). Having the speaker system hoisted on a truck is a good idea.
Bullhorns: As a backup, purchase a couple of bullhorns. You can usually pick one up for $10-$20 dollars.
Confirm Speakers 2-3 days in advance. It is good etiquette to confirm the date/time with speakers, plus helps ensure you have a smooth-running operation.
Have TWO M.C.s/Master of Ceremonies. That way, if one gets ill, you still have someone else to M.C. Plus, two M.C.s tend to be more enjoyable for audiences.
FINALLY:
Other Organizers: Send this page to other organizers so they can run an effective protest. Remember, we are defending our rights and freedoms, and the more organizers that are running effective protests, the more effective actions there will be.
Get Fully Aware: There is a HUGE amount of information out there. Read the "read me" section of this website. We have connected many of the "dots" to help give an overall picture of what the real plan is. It will help you plan and fight back more effectively.
Submit Additional Actions: If you have a (promotional) sign that is effective and want to share it with others on this site, or have additional information you think is relevant to running an effective protest, please use our contact form in the upper right-hand corner to get in touch with us. Please tell us specifically what you think should be added so we can update the page!
Please create an account on this site too. It is free, and it will help us keep you updated with new content/actionable information in the future.
Have a wonderful day!
I want to give a warm thanks for the information TO Help for your protests and allowing me to post it on my site. Here is the site once again.
Remember that just protesting will never change anything. Granted most of the protests have no real agenda other than waking people up, you can see that there have been tons of protests worldwide since March 2020 and the evils are STILL moving ahead with their agenda.
To make REAL change, you have to first unbrainwash yourself into believing you need a government to control you. Watch these videos. If you STILL believe government is needed, then you have learned NOTHING in the last 19 months.
You (like me and everyone else) needs to work on your childhood trauma and understand what REAL spirituality is all about.
You need to take down the evils collectively WORLDWIDE and here's one method, my medication and prayer circle.
And lastly, you need to start learning how to create healthy communities you can live on with others who are also awake and totally free of the poisons others have put into their bodies since March 2020.
Here's the link to the online community to learn and create REAL communities offline.
Serious people ONLY! No LURKERS. If you are just taking a look before you decide, make the decision first, then join. You should already know that this is what you want/need to do NOW, not wait and wait and wait until the nazis are at your DOOR!