How you can tell if someone is controlled opposition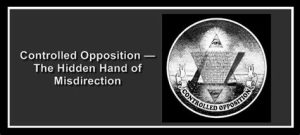 I'm finally getting down to publishing my list of how you can tell if someone is controlled opposition.
Now this doesn't make it FULL proof, but it's certainly a good start. Unless you follow this person covertly so you can take pictures of them with evil collectives or you FOLLOW THE MONEY, there's no way we can get undeniable PROOF. We don't move in those circles – obviously.
Also, TONS of people in the "awake" community worship these controlled opposition channels/people and it makes me SICK!
I've had people get angry at me for saying I think this or that person is control op. It's shocking to me how many people in the Truther community are under deep MIND CONTROL and will do EVERYTHING to protect the controlled opps.
Twice I've heard Truthers say, "well they tell us the Truth."
NO, they don't. And while I agree that they tell us SOME Truth, how do we know what parts are true and what parts are lies?
And of course they are telling us some truth, because they know exactly what to say SINCE they are paid by the evil collectives and the evils have everything planned out in advance. Just because someone knew what was going to take place years ago doesn't make them LEGIT Truthers. Read my article on what I define evil collectives to be.
And WHY would you want to learn from people who are being PAID by the evils to confuse us and make us look like fools to the zombies instead of learning from REAL Truthers???
I don't mean to be negative here, but I've also heard that most of the people who we THINK are awake and are commenting on channels, Telegram, etc. are really trolls. sigh That there really aren't that many TRUTHERS out there.
So here is my list. If you have anything to add to it, please comment below or write to me.
Good looking or their look is different/unique (it's the same in hollywood).

They have thousands of subscribers or members and are very very popular.

At first I thought because of the increase in the number of people who have woken up since the scamdemic, so that's why people had a huge increase in subscribers, but now I'm really starting to wonder, especially because many of these controlled oppositions had huge numbers pre-scamdemic or they suddenly get very famous after they talk about two subjects: pedophilia and the covid BS.

These numbers can also be fake people like bots or trolls.

People appear to worship them. A woman once told me they are called "YouTube stars."They aren't doing videos to try and help Humanity, they are doing it for the popularity, admiration, money, etc.

They barely get any criticism, and if I say I don't like something or question something about this "YT star, I'm attacked by their cult followers.This once happened pre-scamdemic in regards to David Icke.

I knew nothing about him at the time. He had been reading about Agenda 21 from a piece of paper, and when I went to look up Agenda 21 in a PDF, I couldn't find any of the keywords I wrote down that Icke had mentioned, so I asked about it on that video in the comments.

I didn't get ONE response.

Then I asked again or another question on another video of his, and again, NO HELP AT ALL from his cult followers.

Then one day on another platform or channel I mentioned my experience of not finding those words in that PDF, and how Icke had NOT given us any links to proof about this "agenda 21," and I was attacked by his cult followers about how he's so great, and one person demanded to know whether I had read ALL of his books.

Yes, I'm going to read 10 books just to find out about what he said in one video about Agenda 21. MORON!

So these cult worshipers have no problem saying something when I question the "star" they worship, but when I ask for help or clarification about something, they don't say a word.

That tells me they don't learn ANYTHING from these stars, they only worship them. If they learned ANYTHING, they would be more than happy to help or they would have their own links ready to hand out.

They rarely ever provide links to the proof they are citing.
They advertise their name all the time and that's a last name too, which means they are never afraid of being taken OUT by the evils.
 They appear to have a team of experts which costs money.
Their videos are of high quality which means they have professionals. Video editing is NOT cheap, let me tell you. The odd time you can find a good one overseas, but that's rare to find.
Their script (what they say) is exciting, or funny, and it draws you in. It's very polished and professional.
When you join their list, you get really professional polished emails. Do you know how much it costs to hire someone to do that for just 10 emails and these controlled oppositions have emails going out every day?
They have no problem going in front of the camera thereby showing their face so the evils can track them down.
They NEVER talk about controlled opposition channels/sites, that they even exist, how they feel about CO, etc.
They don't allow people to join them in the fight when people reach out to them.
They seem to come up with money all the time. Who has money to donate as the world's ECONOMY is crashing all around us? Even if one person donates, that's not enough to pay for ALL of the expenses they must have. Money for trips, touring, video platforms, staff, testing equipment, etc.
They push you to donate to them. Again, I need money too, so I ask for donations too, but I don't put any information behind a paywall. I once tried it on Odysee that you had to tip to comment. I got no comments and then felt guilty, so I removed the paywall within a day. I'm here to help save HUMANITY, not charge people to help them. That is what we should ALL be doing!!!

They talk about christianity and jesus sometimes or often, and wear a cross. I've even seen them on their walls. This gets all the christian fanatics to trust and worship them. Even people who aren't fanatics then trust them.I used to be like that when I was naive many many moons ago. I thought that all Christians were kind safe people. LOL, boy did I learn the hard way.

As you may already know, I don't believe in religion, I only believe in spirituality. At first I didn't know this Christian thing was these CO's way of drawing people in, but now I know.

They use new age cult terminology so the new age cultists trust them and just to be clear, the new age CULT has permeated the ENTIRE WORLD. I've even heard religious people parrot the new age cult doctrine that you have to be positive, think happy thoughts, raise your frequency, etc.

Now frequency matters and our thoughts do matter, but I don't believe you should force yourself to think happy thoughts when you are NOT HAPPY! I've never EVER felt comfortable with this even though I get the crux of it.

They use mainstream marketing manipulative techniques that are in your face, like their webcopy, asking for the donations over and over, their email list content, etc.
They look too well manicured physically (hair, makeup, nails, clothes, jewelry, etc.) But if they aren't, that doesn't mean they aren't controlled opposition just because they have tattoos all over their bodies or they are a man with long hair.
They keep using the word covid or covid19, and never use the word scamdemic or plandemic, biological weapon, man made virus or say that people have been poisoned by things like frequency weapons, 5G, chemtrails, toxic food, toxic water, etc.

They believe that covid is real.

Note: I have a woman who says she's a scientist and SARS2 HAS been isolated and Kaufman and Cowan are disinfo agents. (I don't use that term, but she did.)

Since I am NEVER tied to anything because I'm a VERY open minded person and I know we often get brainwashed or mind controlled by the evils, I'm waiting for her evidence and for her to answer my numerous questions. It's not the first time I've heard that Kaufman is a fraud.

Update: she ended up being a bitch in the end. I have her points about how virologists DO isolate a virus if you want them, just reach out to me. Just because she was a bitch doesn't mean she's wrong, but I'm reading a very easy to understand book that I will upload when I'm done.

We HAVE to get it right when we talk to zombies.

Viruses DO exist, but they are NOT the cause of illness. They come AFTER the illness has already set in.

When doing a video, they have a computer monitor showing their domain, signs in the wall saying "share this," they are promoting books, have signs with brainwashing propaganda, etc.

This alone doesn't mean anything because everyone wants to brand themselves, but I find it very suspicious.

The furniture and accessories in the background are gorgeous, well laid out, and looks like an interior designer set it up. Also, their place looks very clean, it doesn't look like anyone lives there unless they all happen to be OCD.
They take the evils' words and change a few letters or one word and start promoting something of their own which is ALL brainwashing because our brains can't tell the difference between "The Great Reset" and "The Greater Reset." Or Event 201 vs Event 202 or "Trust the Plan" vs "Trust the Plant."
Okay, that wraps it up for this article.
I hope you learned something.
Michelle
A knowledgeable mind will set you FREE and so will using Natural Law to fight the evils and evil collectives. Remember, according to Natural Law, if you or anyone you know is under attack, spiritually and lawfully you are allowed to fight back even by killing that person!
Truth, connecting to consciousness, learning how to love and respect yourself and then others to build a better world is ALL that Matters, and then taking ACTION!