Controlled Opposition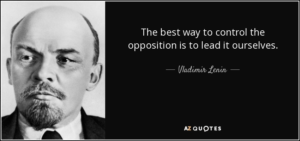 So one thing the evils are VERY good at is controlled opposition (CO).
What that means, is they hire fake actors who play the role that they are on our side and ready to help educate us, FREE us, or work against the criminal government or evils, etc.
We could have known the person for 25 years ago as they started off small and kept low key, or someone who came onto the scene recently as something major happened that the evils planned like the scamdemic.
The controlled opposition actors are generally smooth talkers, very likable, most (not all) are above average in looks, and they suddenly get TONS of followers who are mostly just fake followers the evils added to make the person look like everyone should be following them because they are so popular.
You also have to wonder how they do the this work full time without getting paid?
I'm only able to because I get help and I still have to work part time, otherwise I wouldn't be able to do this at all. Do you know how much work goes into making videos? TONS.
Usually their videos are well done and a lot of the time (not always) they look professionally done.
The controlled opposition actors also provide us with about 75% truth, and the rest are all lies. They have to provide some truth otherwise people wouldn't buy into them.
I never follow people because others do, I follow people if I like their work and want to learn more from them and I certainly don't WORSHIP them like most people do. I can also leave them in a heartbeat if I start to become suspicious of them.
Unfortunately, most people are followers and can't think or act for themselves. That's why we are in this mess, because those types are easily brainwashed.
Besides stearing us in the wrong direction about the truth, the controlled opposition actors now have a a great way to collect names, email addresses, contact info, pictures, etc., They also brainwash people into thinking their "savior" (the YouTube star) has come to help save them INSTEAD of people learning how to work to save THEMSELVES.
And lastly, it can lead people to turn against their fellow brothers and sister humans or even turn against another truther activist.
Time permitting, I'm going to start listing any and all of the controlled opposition people (even companies, groups, etc.) that I'm aware of.
Please add to this if you know more of them.
Q

The most popular one right now is Q, which came out shortly after trumpet was placed into power.

They built some stupid site that makes people jump through hoops and spend tons of time researching just to understand what it says and/or means. Supposedly it's a collection of people high up in the government and of course includes trumpet.

Of course like all good cons, they give the people some truth. Just enough to keep them worshiping this Q fake actor.

The people who worship them are often called Qtards. Nothing you can say to them will change their minds. They continue to worship trumpet and this Q site. And what's even worse, for all intensive purposes, they appear intelligent otherwise.

Q has claimed trumpet will save the day on many occasions, but of course, trumpet never does, AND all you have to do is look at what trumpet has done from the beginning, and who he hangs with or hires, to see he's evil just like all the other evils in or out of government.

No one EVER gets into that power position unless they are placed there by the evils. And if the evil puppet does start to make waves, they assassinate him.

Unfortunately, these qtard people are completely brainwashed. I was thrown out of a fakebook group for speaking the truth about trumpet. They were brainwashed new agers who think that thinking positive thoughts is going to save the day. Yeh, as you can see that hasn't done dick SHIT to save us from what is going on or anything else the evils have done to us in the past.

Also, this psyop convinced millions of people (even worldwide, not just in America) to NOT do anything to fight back, to just wait for trumpet or someone else to arrest all the evil collective people in government.

Of course that never happened and every time they INSIST people have been arrested and I ask for proof, they tell me to find it myself. That's how mentally deranged they are.

Some did come to their senses after trumpet was no longer the face puppet in power, but there are still the majority who STILL hold onto the lies they were spoonfed.

And what's worse, last year they started making it to the mainstream media looking like crazy people and I think they were even called domestic terrorists, so now it makes every real TRUTHER look like a nut.

That's the way the evils planned it so they can arrest people for believing in the truth.

Brad Little

This article from "The Waking Times" came out on April 9, 2020 titled "LIBERTY ACTIVISTS PLAN MASS DISOBEDIENCE OF COVID-19 ORDERS, PLEDGE TO "TAKE A STAND"

One sharp person who did a search was able to make the connection between Brad Little and the freemasons which is just one organization that, while not high up, works for the evils.

I'm surprised Wikipedia (also controlled) would admit to this. You can read that here. One woman said this is a lie, but I'm sorry, I don't have time to review the facts. I just have too much work to do.

I do want to say one thing though. Not ALL freemasons are part of the evil collective. They did not start out that way until back in the 1700s when the Grand Orient lodges took over the other lodges and tainted freemasonry.

Alex Jones

I never liked the guy so I've only heard him speak twice and I'm so turned off by him that I can't watch him. I literally felt sorry for him when they wiped him off the internet, but then a couple of months ago I came across a video clip of him apologizing for talking about pizzagate saying that it was NOT true.

WTH???

It's 100% TRUE!

I'm sorry, I never downloaded the clip. If you find it, please send it to me. Thanks (Update 09-11-22): I recently found out that the reason he retracted pizzagate is because he was threatened by that guy (sorry can't remember his name) who ran the pizza pedo place.

Then I saw another clip of him saying vaccines aren't dangerous and yes, you can shoot me. I never got that one either.

I will say (no I'm not crazy), he may have been taken out, and that may be a clone of him. I am only starting to learn more about clones, robots, and aliens that are taking over (or already have) popular people. Or maybe they always were. I am not sure. Here you can see my playlist on Deep fakes, although this isn't what I'm talking about.

I subbed to them only because they had who I thought was a spiritually conscious person, Laura Eisenhower on their show last year.

I didn't care that her great grandfather used to be the president because all people in government are criminals, but I thought okay, maybe he was different.

I only cared if she had something to teach me about spirituality and that's the one reason I subbed to their channel was because of her.

They seemed like nice young men.

The one thing that irked me about her though is that she worships trumpet. She always seems to mention him in her videos although I will admit, I haven't watched a lot of them, only maybe 3.

I watched another video of Edge of Wonder's a while back and then forgot about them until TODAY when they showed up on my Youtube feed.

Well guess WHAT!!! They have a series they are coming out with now about how the MSM has taken everything they said about trumpet and twisted it to make him look bad.

They aren't the first people to do this, I saw another video like this about 2 years ago and I watched the whole thing because back then I really wanted to know if they were making trumpet out to be a bad person.

BUT, we are in the thick of the scamdemic and people are STILL trying to convince me and everyone else that trumpet is great and he was going to save EVERYONE.

I was getting more and more irked by the Q BS, and the fact that trumpet, OF COURSE, isn't doing anything to save us and I was right all along, he's part of the evil collective.

In fact, I've since gotten a lot of files from someone with more proof and I will say upfront that I haven't watched any of them because again, I have no time for that and I don't need to be convinced. I created my own article listing many things that trumpet has done over the years and then even found evidence from someone else that he hangs with the black mobility. So here's that evidence…

The files this one guy gave me.

My article which is very short considering  I know he's done a ton more evil.

The evidence (pics too) of him hanging with the black nobility years ago. If you don't know who they are, they are very high up in the pyramid of evils. No regular good person would ever be caught dead with them.

Trumpet worshipers really get me pissed off, so when I saw this video from the Edge of Wonder and at the time it was ONLY 2 months away from the selection of 2020, and I knew the evils were turning up the heat on dividing the masses, I had enough of it.

More and MORE trumpet lovers were coming out and getting angry at me because they are brainwashed, and I'm pissed at them because they are seriously mentally disturbed and brainwashed. Update: as of July 2021 or so I finally figured out that anyone who adores and worships trumpet is under DEEP mind control. The evils have had techoology since the early 90s (even before I'm sure) on being able to mind control vast amounts of people at once.

This is the ONLY explanation for all the trumpet worshipers to the point of them being emotionally violent if you say anything negative about him as IF he's a diety.

Then I see this, coupled with Laura Eisenhower being on their show, and I remembered she was talking about aliens. In the truther community it is said that's going to be the evils' NEXT play, to introduce and scare the public about ALIENS. Well, we have yet to see the evils make that play.

So, I am pretty certain she and Ben and Rob are controlled opposition. I mean they don't even match together. The two young men do, but she and they don't.

And yes I know they've since been supposedly taken down by goolag on YouTube, but that doesn't mean much anymore. That's one way the evils get MORE brainwashed people to follow controlled opposition, by making people feel sorry for them. Look at Alex Jones, he's CO.

Look at how many followers they have – 462,000. When I added them to my excel file, they were at 392,000 in May 2019, although I'm not sure if I watched her interview in that exact month. That's 70,000 more followers in 15 months and they have a very high subscriber rate to begin with. More than any other truther channel out there.

I went to do a search for Laura and even her twitter feed is showcased at the TOP of goolag.

Since when does someone who's spiritually conscious get their twitter feed at the top of goolag's search engine???

Maybe they do, I don't know, but with all the other evidence, I'm going to go with that she's also controlled opposition, especially when she hangs around Q worshipers and then tweets this…

"If a Political Party Doesn't Advance a Moral Cause, Then It Is Merely a Conspiracy to Seize Power.

I have the most deep conviction that a political party can be called such only if its whole purposes are soundly based in some moral and spiritual values."~ Dwight D. Eisenhower"

Since WHEN has a political party EVER advanced a moral cause? LOL

And what, her great grandfather didn't know the evils control America?

PALLEEASE!

Philosophy Tube

He's upto 800,000 subs. How many brainwashed idiots care about philosophy???

Damm, I even donated to this guy in and around 2018. He even had a whole episode on suicide that really pulled on my heartstrings. The minute he had "Adam Ruins Everything" on I became very suspicious.

THEN when he did this skit and he had those symbols on his hands, I knew he was controlled opposition.

I haven't been on his channel in so long and when grabbing that image, I see most of his videos have been about trans and gay issues. He was never like that before.

I used to LOVE the TV show "Adam Knows Everything" UNTIL he briefly stated that there was nothing wrong with GMOs. He didn't even provide evidence, just threw it in there for 20 seconds at the end of one of his episodes.

This was before I was a die hard truther and even knew what controlled opposition was, but this is how the controlled opposition plays the game. They will give you a certain percentage of truth, and then throw in the lies and try to convince you that you are wrong about what you already know.

Dane Wigington

He's supposed to be an expert in geoengineering, and if you don't know what that is, it's the evils poisoning us with spraying chemicals on us. They have been doing this for decades. Here's my playlist on that.

Geoengineering also includes the topic of how the evils have been using weather as a weapon since at LEAST the 1940s. That's why we've had so many of those weather catastrophes that harms people, kills people, destroys their houses, the land, all natural life, etc.

It's also the game that the evils use to make people believe there's climate change and that WE, the 99% are responsible for it.

Well that's NOT true. THEY are the ones who have been poisoning our air, water, and land for hundreds of years ever since the industrial revolutions came into play. They've only increased their poisoning (on purpose). We certainly had nothing to do with that.

So imagine my shock last week when I came across this video, and Dane talks about how the evils are right, we are overpopulated. WTH???

I used to buy into the lie that we are overpopulated and then I learned the truth.

The evils use this excuse as to WHY they want to kill us all off, but that is NOT the reason they want to kill us all off.

So the very fact that Dane agrees that we need to decrease the population because he believes in the lie that the evils are saying, shocked me.

You can listen to it here at around 46:21. Update: suddenly the video is now private and I doubt he's on Bitchute or Odysee nor do I know the title of it.

I still wasn't 100% sure, so I started asking around and someone sent me this.

And here, WeatherWar101 talks about how Dane ignored him when he wanted to discuss his findings, and instead, cyberbullied him. Dane wasn't the only one, but still, why would Dane attack someone who found out very crucial evidence about what the evils are doing?

And then someone found this on Dane's own site. That's an EVIL CORP he used to work for.

David Partker

He's not in the truther community. He's alt media, but he's mainstream alt media all the way. He mainly talks about BS politicians and he's 100% on the left.

A few years ago I watched him maybe 2-3 times and liked one of his videos, but at the time I didn't know he was controlled opposition.

He created a channel on Odysee and for some reason, they keep showing me his videos on my feed, so every so often I go there because he has 3-5 minute short clips and the titles are clickbait.

Every clip is making fun of and looking down on anyone who is against the death jab or any other topic that's TRUTH.

Also, the last video I saw he said, "Trust the Science." That's an evil brainwashing term that is mentioned all over MSM and by the government puppets as well. It's been like that since the war broke out in March 2020.

I can also see him trying not to laugh when he spews his BS. I can just smell that he's CO.

I guess he always was and I just didn't know that he was back then and now I'm more fine-tuned to figuring out who is, and who isn't.

He literally posts those short clips (I think) to get our handles when we downvote him or comment. He never gets any likes, only downvotes, so why even bother?
I'm sorry I don't have more people to give you. I know there are tons more. I'll add more as I come across them if I remember.